Wedding dress shops in Paris and London
- The Parisian boutique -
It is in the heart of the 9th arrondissement, in the chic Madeleine district, that our bridal boutique and workshop nestle. With its parquet flooring and Haussmann-style mouldings, our elegant little cocoon seems made to accommodate all this whiteness. Our silk chiffon, organza and crepe pieces twirl and dance from one bride-to-be to the next. Laughter and exclamations can be heard from the constantly busy fitting rooms.
French design in the wedding world is probably the last reminiscence of fashion couture salons. Ladies of the beginning of the century rushed there to have their dresses made to measure in the most beautiful fabrics of the capital. At Le Dressing Club nothing is taboo, brides confide their childhood dreams and reveal their insecurities to an attentive ear who will easily find a solution. Mothers are proud of their daughters' beauty, girlfriends are sometimes even a little jealous...
At Le Dressing Club, what we love most is the unique atmosphere that transforms each fitting into a little moment of eternity. We strive to make our showroom a unique and slightly magical place where every woman becomes a true goddess in just a few moments. We have a wonderful job and we thank all our brides who make us live unforgettable moments.
At the back of our showroom, a narrow corridor full of white dress covers will take you to Le Dressing Club's lungs: our workshop. This is where we alter all the dresses so they perfectly fit the figures of our brides-to-be. This is also where our beloved Alba collections come to life.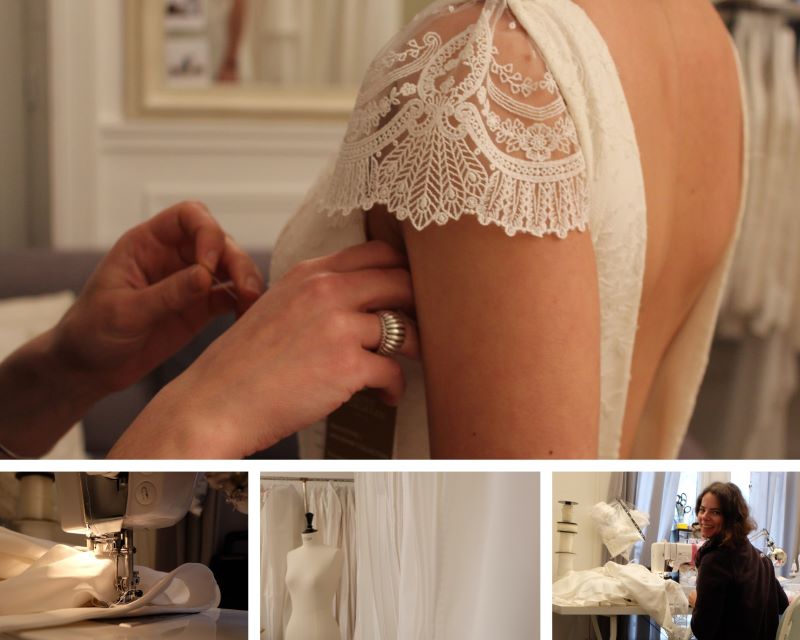 - The London boutique -

Our new boutique opened in September 2021 in the heart of London's iconic borough of Kensington & Chelsea. Here we have opted for a beautiful "gable on street" boutique in order to quickly get good visibility among the English clientele. The boutique is modern and streamlined, in true London-style, and bathed in sunlight all day long thanks to its large shop windows.